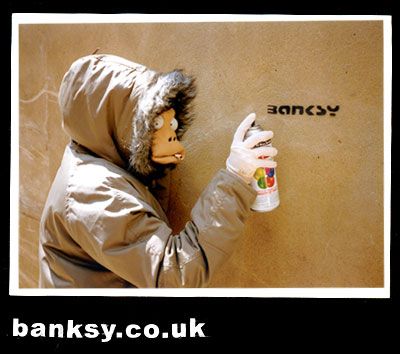 The launch of Home Sweet Home – Bristol's very own Banksy book – tonight at the Apple is shaping up to be good sport.
Not only will it feature local grafitti types, photographers, banksy fans, art scene movers, publishing shakers and er, plenty of "local characters" there's also going to be loads of local journalists there on the hunt for that elusive and once-in-a-lifetime Banksy interview opportunity.
Already, The Blogger learns, competition is fierce to deliver that exclusive Banksy interview to Northcliffe's finest. Go down and join the fun. It's free in too.
Aside from the doppleganging opportunities to be had there's also live painting from old school legend: INKIE who worked closely with Banksy in his early years + FLX & CHEBA plus DJ's Dub boy + Plate tectonics.
Which all sounds far too fashionable for The Blogger who will be staying at home, tucked up with a mug of cocoa reading the Electoral Commission's indispensable 87 page guide, Donations and loans: guidance for political parties in Great Britain.
Oh the glamour!